Katoen Natie 'Onderneming van het Jaar 2014®'
CMOSIS wins 'De Prijs van de Vlaamse Regering voor de Beloftevolle Onderneming 2014®'
Tuesday, October 14, 2014 — Katoen Natie was voted 'Onderneming van het Jaar 2014' (company of the year). EY is organising this year's festive 20th edition of the 'Onderneming van het Jaar' in partnership with De Tijd and BNP Paribas Fortis. During this anniversary edition, Katoen Natie was crowned the winner over Kinepolis, Ontex, Van de Velde and Vyncke, receiving the award from H.M. the King. The 19 previous winners of the award were also present at the awards ceremony.
Katoen Natie was founded in 1854 and is a global provider of logistics services. The company combines engineering, technology and port activities to develop state-of-the-art solutions for the (petro)chemical industry and the consumer goods sector. Katoen Natie has 400 operational units, with 150 terminals and logistics platforms. The company employs 10,041 people, with sales topping €1 billion in 2013.
CMOSIS is the laureate for 'De Prijs van de Vlaamse Regering voor de Beloftevolle Onderneming 2014' (award by the Flemish government in recognition of the most promising company), an award that is now in its 9th edition. CMOSIS won out over Emulco, Icsense and Showpad, receiving the award this evening from Flemish Minister-President Geert Bourgeois.
CMOSIS was founded in 2007 and develops advanced image sensors. The company focuses mainly on scientific and industrial applications. With its multi-disciplinary team, technological innovations and strategic partnerships, CMOSIS is among the world leaders in the sector. The company employs 69 people and achieved sales of €36 million in 2013.
An award for successful Belgian companies
EY launched the 'Onderneming van het Jaar' award in 1995 to reward successful Belgian companies for their excellence in performance. The 'Onderneming van het Jaar' award places the spotlight not only on large companies, but also on smaller family-run businesses which through their growth and capacity for innovation, internationalisation, entrepreneurship, strategy, tenacity and responsible management stand apart in the business world.
Rudi Braes, Managing Partner EY Belgium, explains: "Each year, the 'Onderneming van het jaar' recognises a company with a clear vision, ambition and growth strategy. This year, we nominated five remarkable companies that have distinguished themselves in a number of areas. Not only producing strong profits, but also demonstrating inspiring entrepreneurship, innovation, good governance, international vision and clear growth potential. These factors are clearly present in Katoen Natie, a top company in Belgium. Hence it is with pleasure that we honour the company with this prestigious award."
Katoen Natie joins an impressive list of previous winners: Willemen Groep (2013), La Lorraine Bakery Group (2012), Soudal (2011), Taminco (2010), Studio 100 (2009), Cartamundi (2008), Groep H. Essers (2007), Metris (2006), Option (2005), Deceuninck (2004), Miko (2003), Omega Pharma (2002), Resilux (2001), Melexis (2000), Sioen Industries (1999), Compex (1998), Icos Vision Systems (1997), ECA (1996) and Real Software (1995).
Chairman of the jury, Count Paul Buysse, explained the choice of Katoen Natie as winner: "Katoen Natie has been awarded 'Onderneming van het Jaar 2014' because the facts and figures clearly indicate that this company prioritises excellence, professionalism, customer service and social relations above all else. Although there has been some debate surrounding certain elements of its social relations activities, this does not prevent Katoen Natie from pursuing an impressive strategy and rhythm, at the centre of which are growth and professional development. The motivation of its staff ensures constant development and new initiatives, markets and products every day. Katoen Natie is, in every respect, a successful company which is driven not by one man, but by over one hundred enthusiastic employees. The jury unanimously believes that Katoen Natie has proven with absolute conviction that it deserves the title of 'Onderneming van het Jaar 2014'."
CMOSIS, a young promising company, recognized by Flemish government
'De Prijs van de Vlaamse Regering voor de Beloftevolle Onderneming' is now in its 9th edition. The Flemish government aims with this award to recognise companies with clear growth potential. The nominees fulfill the selection criteria developed by the professional jury under the leadership of Geert Noels. All are fast-growing companies in full development. The previous winners include Medec, Itineris, Skyline Communications, Clear2Pay, Netlog, Financial Architects, Transics and Televic.
The jury chose CMOSIS for 3 important reasons: "First and foremost, CMOSIS stands out due to its technological excellence. The company has a technology that competes at the highest level, evidenced by its prestigious clients which are known worldwide and their loyalty to the company, and this award. In addition, CMOSIS still has significant growth potential that can be realised through new applications of existing technologies and continuous innovation. Finally, we opted for CMOSIS because this innovative company plays an exemplary role, and is an excellent ambassador for entrepreneurship in Flanders. Its management never rests on its laurels, and has a drive that can only inspire other companies", explains Geert Noels, member of the Jury.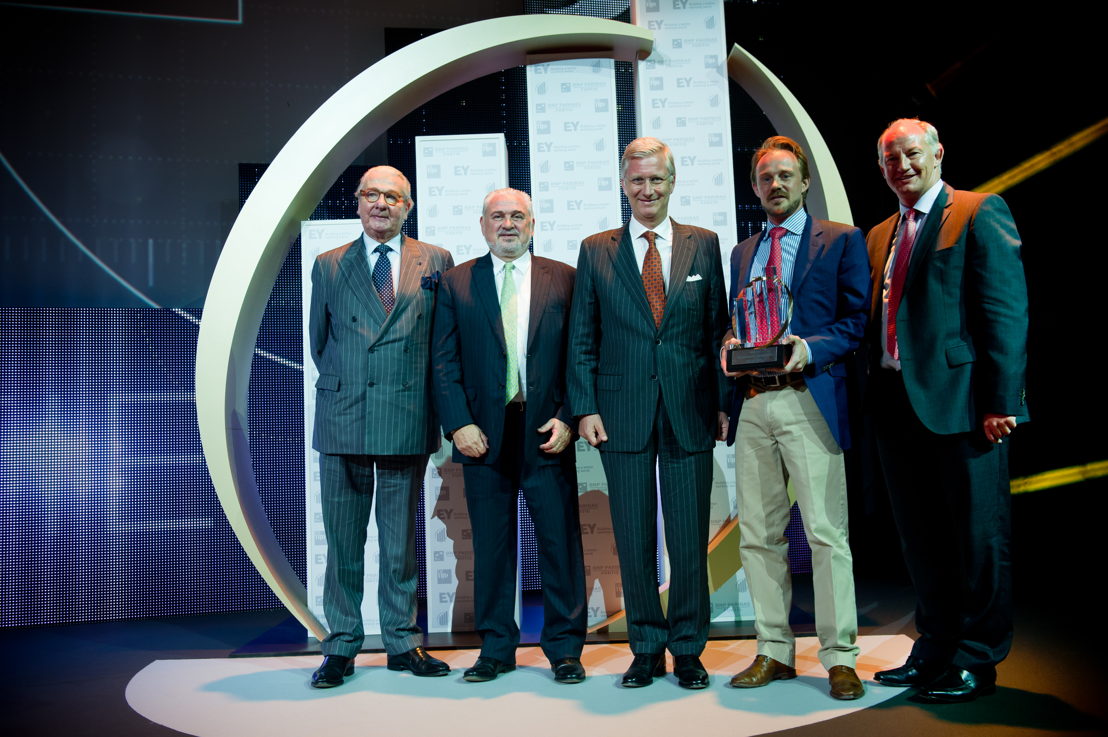 Christophe Ballegeer Porte parole EY at EY
Fernand Huts CEO at Katoen Natie