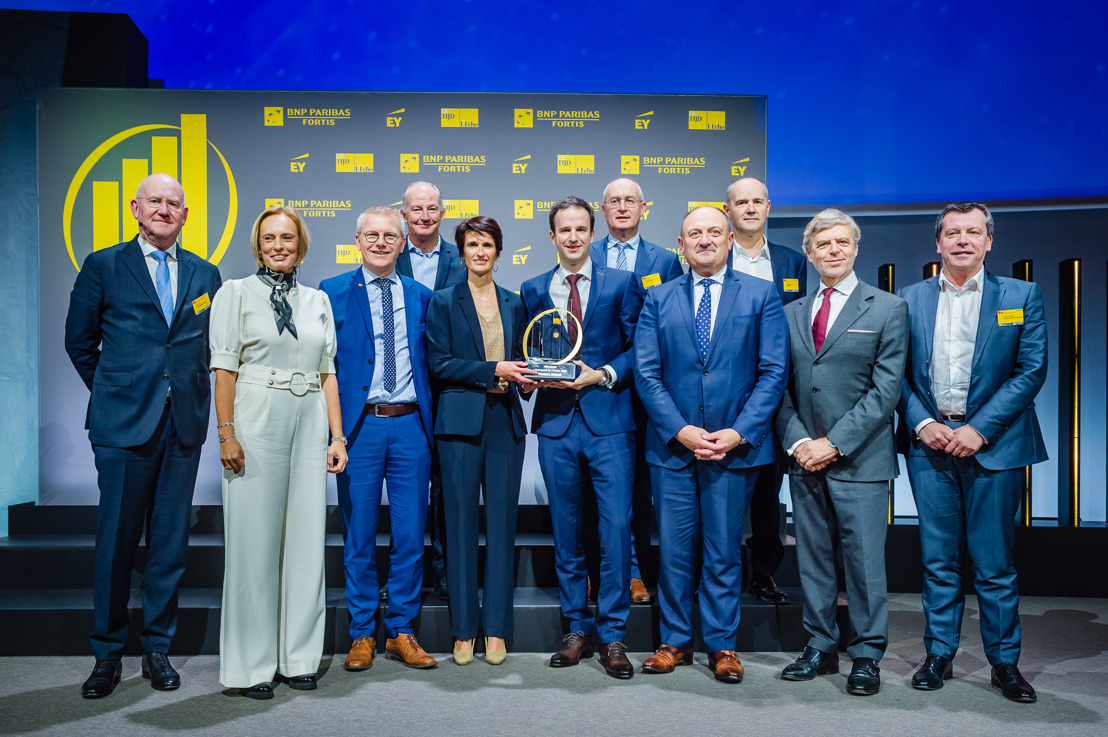 MEURENS NATURAL IS 'L'ENTREPRISE DE L'ANNÉE®' 2022 AEROSPACELAB RECEIVES 'SCALE-UP DE L'ANNÉE' 2022 AWARD
Brussels, 05 December 2022. This evening Meurens Natural, from Herve, was chosen as 'L'Entreprise de l'Année®' 2022. Joint CEOs Bénédicte and Bruno Meurens were awarded this prestigious prize by Minister Georges Gilkinet, Deputy Prime Minister and Minister for Mobility. This is the 27th year the prize has been awarded, organised by EY in conjunction with L'Echo and BNP Paribas Fortis. Meurens Natural was selected ahead of Atenor and La Laiterie des Ardennes by a professional jury made up of prominent figures from the Belgian business world. Meurens Natural succeeds Odoo, winner of 'L'Entreprise de l'Année®' 2021.
The award for 'Scale-up de l'Année' 2022 was also presented during this ceremony. As a fast-growing young company, Aerospacelab, a scale-up from Mont-Saint-Guibert, received this award. Aerospacelab is the 10th winner, following Cowboy last year. Minister of Economy Willy Borsus, Vice-President of Wallonia, presented the trophy. The runners-up for this prestigious prize were AppTweak, Cognivia and EMAsphere.
A globally recognised award
EY has organised the 'L'Entreprise de l'Année®' competition since 1996 with the aim of honouring companies in the French-speaking part of Belgium that stand out for their enterprising spirit and innovation, as well as their strategic and competitive strength, openness to the world and exemplary governance.
The President of the jury, Laurent Levaux, explained: "This year, three original, highly effective companies impressed the jury. We rewarded Meurens Natural for its huge growth in organic products and significant innovation. Meurens Natural exports its products to Europe's largest agribusinesses. This is first and foremost the story of a brother and sister who applied their dedication and intelligence to turn around their family business. They are risk-takers, real entrepreneurs who we hope will act as role models for many young people in Wallonia and Brussels."
Marie-Laure Moreau, Regional Managing Partner Wallonia at EY, added: "Since the competition began we have aimed to support and encourage companies with strong growth potential, both in Wallonia and in Brussels. We are proud to highlight success stories like those of Meurens Natural and the other finalists Atenor and La Laiterie des Ardennes: they are inspirational role models. Current business models are constantly evolving: the business world is moving towards production processes that take better account of ESG criteria. Growth can no longer come at the expense of people or the planet. Each finalist has a contribution to make in their own sector and deserves our appreciation – now more than ever."
Aerospacelab wins 'Scale-up De L'Année' award
At the award ceremony for 'L'Entreprise de l'Année®' 2022, scale-up Aerospacelab from Mont-Saint-Guibert, received the award for 'Scale-up de l'Année' 2022. Aerospacelab is the 10th winner of this competition, following Cowboy last year.
The prize rewards the efforts of promising scale-ups from Brussels and Wallonia that are developing strongly and have a promising future ahead. This competition aims to support these companies and encourage them to keep up their good work.
Pierre De Muelenaere, President ad interim of this year's jury, stressed that: "Aerospacelab is not typical of the French-speaking economic space. It is a very ambitious undertaking that not only aims to develop and market new-generation satellites, but also to sell data and information".
Sophie Lefèvre, Executive Director at EY, added:"The jury for the 2022 'Scale-up de l'Année' admired the vision, skills and teamwork involved in this complex project. Aerospacelab has a difficult task to accomplish, but it also has major potential to succeed both locally and internationally. It can create an important ecosystem thanks to its influence and the establishment of its 2 gigafactories. Aerospacelab's solutions improve the efficiency of all relevant industries by making geospatial intelligence both operable and affordable."
---
---