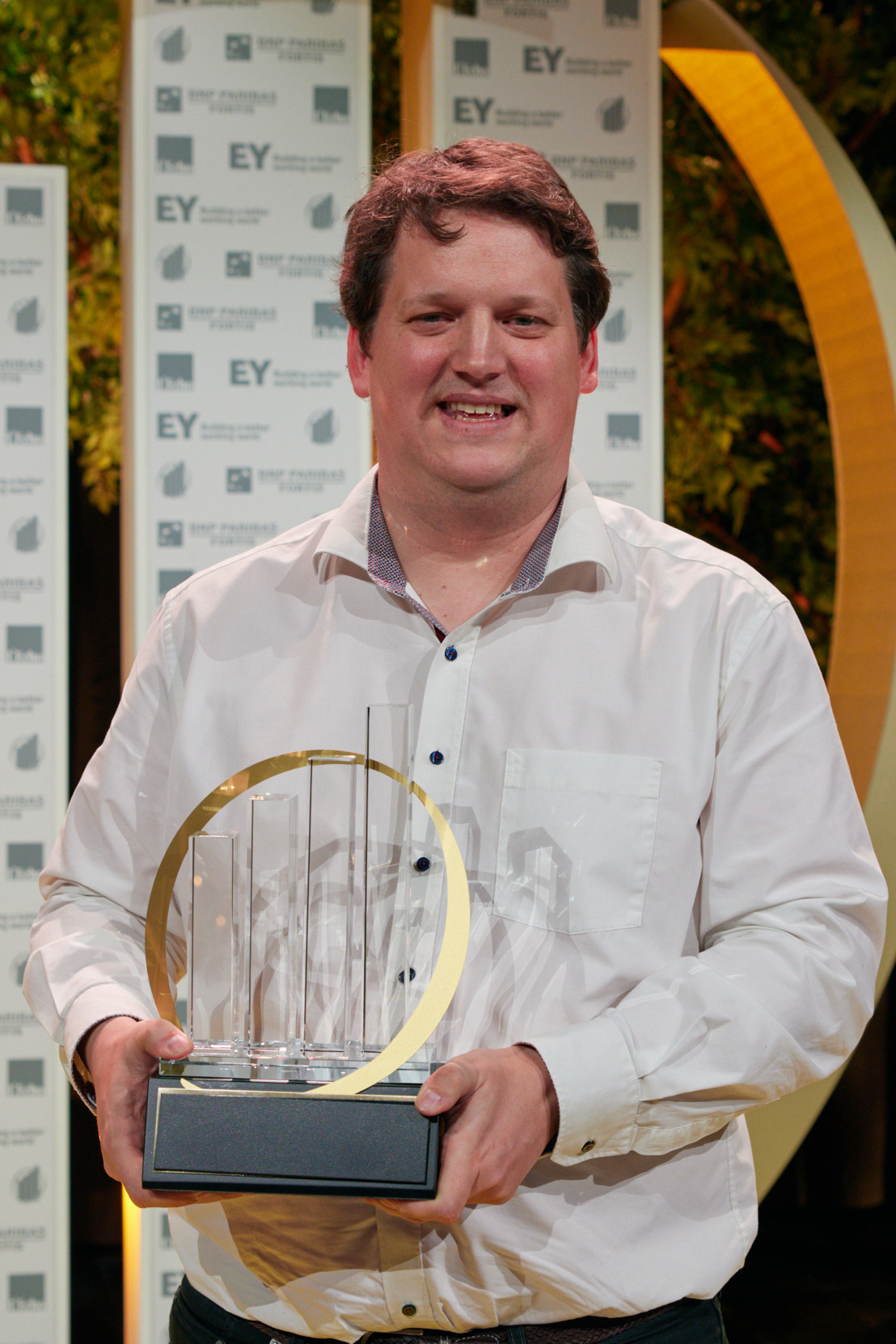 ODOO IS 'L'ENTREPRISE DE L'ANNÉE®' 2021
COWBOY RECEIVES THE AWARD FOR 'SCALE-UP DE L'ANNÉE' 2021
Brussels, 15 February 2022. Odoo (Grand-Rosière) was chosen as 'L'Entreprise de l'Année®' 2021 this evening. CEO Fabien Pinckaers was presented with the prestigious award by Prime Minister Alexander De Croo, in the presence of a limited audience. The 26th edition of this prestigious prize, organised by EY in collaboration with L'Echo and BNP Paribas Fortis, was originally planned for December but postponed to today due to the Covid measures. Odoo was chosen ahead of Analis, G. Moury, Goumanisto and Iris by a professional jury made up of prominent figures from the Belgian business world. Odoo succeeds I-care, the winner of 'L'Entreprise de l'Année®' 2020.
During this ceremony, the award for 'Scale-up de l'Année' 2021 was also presented. Cowboy, a scale-up from Brussels, received this award for a fast-growing young company. Cowboy wins the 9th edition of this award, succeeding Proxyclick. David Clarinval, Minister for the Self-employed and SMEs, presented the award. The runners-up for this prestigious award were eFarmz, Elysia, Netaxis and Urbantz.
A globally recognised award
EY has organised the 'L'Entreprise de l'Année®' competition since 1996 with the aim of honouring companies in the French-speaking part of Belgium that stand out for their enterprising spirit and innovation, as well as their strategic and competitive sense, openness to the world and exemplary governance.
"Once again this year, the jury was presented with five outstanding Belgian companies. In Odoo, the jury honours a European trailblazer in IT services. Odoo is exciting due to its passion for innovation in all areas, not just in its products and services: in its recruitment, in its team management, its business model and its network. Odoo innovates, and keeps innovating", commented the President of the jury, Laurent Levaux.
"The jury was also impressed by their model of exemplary entrepreneurial spirit, with a plan, a vision for international development and considerable future potential. Odoo is the worthy winner of an exceptional edition. We are also proud to have organised this prestigious ceremony, albeit rather later than planned. More than ever, it was important for us to give a platform to our businesses and put all of the nominees in the spotlights. Every one of them has shown unprecedented perseverance and flexibility of which we can be very proud in Belgium. They deserve our appreciation more than ever", added Marie-Laure Moreau, EY Partner and Regional Managing Partner Wallonia.
Cowboy wins the award for 'Scale-Up de L'Année'
At the award ceremony for 'L'Entreprise de l'Année®' 2021, Cowboy, a scale-up from Brussels, received the award for 'Scale-up de l'Année' 2021. Cowboy wins the 9th edition of this competition, succeeding Proxyclick.
The award rewards the efforts of promising scale-ups from Brussels and Wallonia which are developing strongly and have a promising future. The competition aims to support these companies and encourage them to keep up their efforts.
"By totally rethinking the design of an e-bike and equip it with the latest technologies, mechanical and electronic, in just three years, the Cowboy team has already managed to win over more than ten thousand connected purchasers. The Cowboy concept incorporates not just the bike, but all facets of its urban use. It's a very intelligently designed project, with a clear roadmap and led by a determined team that won over the jury for the 2021 edition of 'Scale-up de l'Année' 2021", commented the President of the jury, Baron Pierre Rion.
"For all of these reasons, we not only named Cowboy 'Scale-up de l'Année' 2021, they also lead us to believe that Cowboy will soon be in the running for the highly coveted award 'L'Entreprise de l'Année®', added Sophie Lefèvre, Executive Director at EY. "Once again this year, we're also delighted to be able to give Cowboy and the other finalists a platform to share their expertise with the world at large."
***
About Odoo, 'L'Entreprise de l'Année®' 2021
Head office:Grand-Rosière
​Turnover: €160 million
​Number of employees: 2,100
Odoo was launched in 2005. With seven million users, Odoo is among the most popular business management software in the world. Its offer comprises applications covering all business needs: accounting, inventory management, manufacturing, project management, HR, marketing, website creation, etc. Odoo's vision is to rationalise the operations of SMEs, while staying simple and intuitive.
List of previous winners of 'L'Entreprise de l'Année®'
Odoo succeeds I-care (2020), Easi (2019), Easyfairs (2018), Spadel (2017), Daoust (2016), Paizi Daiza (2015), Belourthe (2014), Tilman (2013), TPF (2012), Hamon (2011), Exki (2010), Proximedia (2009), FIB Belgium (2008), Noukie's (2007), Stûv (2006), Callataÿ et Wouters (Sopra Banking Software) (2005), Pharmadeal (Ashfield) (2004), Euroscreen (2003), I.R.I.S. Group (2002), Eurogentec (2001), EVS Broadcast Equipment (2000), IBA (1999), Ariane II (Sogeti Belgium) (1998), Moorkens Projects (1997) and DB Associates (Colliers International Belgium) (1996).
About Cowboy, 'Scale-up de l'Année' 2021
Head office: Brussels
​Number of employees: 52
Created in 2017 by Adrien Roose, Karim Slaoui and Tanguy Goretti, Cowboy designs, manufactures and distributes smart e-bikes that are truly unique. Through the integration of numerous technologies and incomparable aesthetics, Cowboy aims to reinvent urban mobility. Since its creation, the company has grown strongly while managing to attract international investors as shareholders.
List of previous winners of the 'Scale-Up De L'Année' award
Proxyclick (2020), CluePoints (2019), Newpharma (2018), Trasis (2017), Real Impact Analytics (2016), OncoDNA (2015), CEFALY Technology (2014) and Odoo (2013).
---